This guide is for people who have a podcast or think about starting one and NOT for listeners to podcasts. There are good guides for podcast audience available, for example: The podcast listeners guide by Mathew Honan. You can also check out Apple iTunes or this list of podcatching software for Windows, MAC and Linux, PodcastAlley.com, Digg Podcasts or any of the other podcast directories available on the internet. You can find a very good and comprehensive list of directories here.


Table of Contents
Introduction

Podcasting - once reserved for technical types or those with the financial backing to hire a podcasting specialist - has become mainstream and is no longer limited to geeks and early adopters. With this popularity and concurrent availability of tools, it has become easier to publish podcasts (although it is still not as easy as configuring a VCR).



Thanks to over 100 million iPods sold and the improvements to software and tools to make access and consumption of podcasts easier for regular people contribute to a steady growth of people who tune in to podcasts on a regular basis, which is soon reaching double digit percentages of the US population.

The increasing popularity of podcasting has fueled the number of available podcasts and the competition for audience share. Just having a podcast is no longer enough to attract listeners or engage subscribers.

This guide is primarily focused on the distribution of your podcast vs. content creation. (I have, though, also provided some resources on that subject.) The focus of this article is on the submission of your podcast to the largest and most important podcast directory on the Internet, iTunes; the integration of your podcast into your own blog; and the distribution beyond iTunes for maximum exposure. It is rounded out with information about conferences focused on podcasting as well as podcasting magazines and books for people thinking about starting a podcast.

Bad sound quality of audio and video podcasts is just not acceptable anymore as it was in the early days of podcasting. The listening audience became larger and more demanding at the same time.

The medium matures and the time of early adoption is ending while podcasting becomes mainstream with all the positive and negative side effects of it. Sticking out from the crowd becomes harder and harder and getting attention is the first thing you need. Everything else would be useless; no matter how good it is, if you are not getting attention and being noticed in the first place. Killer quality content will not help you with that, exposure does. Even word-of-mouth requires reaching a certain momentum first, before something spreads viral like a wildfire and becomes a new media phenomenon.

Make sure to bookmark this page and check it often to access the latest podcasting information and resources.



- top -




Content and Technical Resources

Sound Recording and Editing Tips for Podcasters by Bart Farkas. Full article
Good sound quality is critical for any podcast, be it audio or video. Every podcaster can attest to that. Bart Farkas provides a number of useful tips and recommendations to improve the audio quality of your podcast via the use of better recording equipment and the use of audio editing software to improve the audio quality of your existing recordings.

Killer Interviewing Tips for Podcasters by Jack Herrington. Part 1 , Part 2
Jack Herrington provides tons of helpful tips in his two-part article about the technology to use for your podcast (microphones, filters, cables, etc.) as well as tips on how to conduct telephone interviews.


Audio Editing Tools

Here are some audio editing tools that were recommended by several podcasters. One is free and the other ones are commercial and cost a few hundred dollars per license. Which one to choose depends on you individual needs. For personal or semi-professional purposes is the free tool probably sufficient while professional podcasters might want to look at the commercial options a bit closer.





- top -




PodCast Submission Process to iTunes

See Apple's reference "Making a Podcast" at the Apple iTunes website.



The reference at the Apple.com website provides a step-by-step guide for the integration of your podcasts into the Apple.com directory and some additional information about iTunes in general.

Parts of the reference are included in this guide, so consider the Apple reference supplemental to this guide.
You should not need the Apple guide to get your podcast set up on iTunes, but I refer to it because it has valuable information about iTunes in general and also some helpful tips for troubleshooting issues with your podcast or podcast feed on iTunes.



- top -




File Format for iTunes

The file format depends on the type of your podcast. It can be either a classic audio-only podcast or a video podcast (also referred to as VLog or video blog). Each uses a different file format.


Video Podcasts
Video supports m4v, .mp4, and .mov. The maximum resolution for the iPod is 640x480 pixels
Video Codecs: H.264 or MPEG-4, Audio Codec: AAC-LC

Apple recommended the converters that are built into Apple products, such as QuickTime Pro ("Movie to iPod") and iTunes ("Convert Selection for iPod").

iTunes Download (Free)
Quicktime Pro $29.99

Free alternative: Super - Simplified Universal Player Encoder & Renderer by eRightSoft
Commercial alternative: CucuSofts iPod Movie Video Converter


Audio Podcasts
The standard format for audio podcasts is MP3. Do not use different formats (WAV, WMA, OGG, VOC etc.), as this will only create problems for your listening audience who expects MP3. Further, some formats are not supported across the various platforms like Windows PC, Macintosh, Linux etc.

Many tools support the creation of MP3 files, including the mentioned audio editors. Also the above-mentioned "Super" converter supports file conversions from and to MP3 format.



- top -




Storing Your Podcast Files

You can, of course, store your podcast files on the same server on which you have your blog or website; that may be sufficient if you do not have many subscribers who download your files, or if you don't have to pay for the bandwidth that your site is using.



Bandwidth can become very expensive and your hosting provider might not be able to handle a huge amount of traffic and fast downloads. When you release a new episode of your podcast and a lot of people are trying to download the file, you'll want to make sure that your provider has the bandwidth to handle that traffic.

Fortunately, there are very cost-efficient and scalable solutions out there that are specifically designed to provide availability and speed for a very low cost (compared to most hosting providers). You should use them only to store your podcast episodes and not to store your entire blog or website. The service I recommend using is the Amazon Simple Storage Service (Amazon S3).


Alternative Storage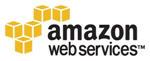 Amazon S3 is part of Amazon Web Services (AWS). For more information about Amazon S3 and other Amazon Web Services, check out this link.

Using Amazon S3 requires an Amazon Web Services (AWS) account (register free and request your AWS Access Identifiers/API Keys). You don't have to be a developer to access and manage your data at Amazon S3. There are a number of easy-to-use tools that can help you with this.

S3Browse is a free website that you can use to manage your Amazon S3 account.

S3Fox Firefox browser extension works very well, just like an FTP client with two panes. You can setup automatic synchronization between local folders and S3. It's also free. I recommend this tool. It requires the Mozilla Firefox browser, as there is no version for other browsers, such as Internet Explorer, available. You can download Mozilla Firefox free at GetFirefox.com.

Here is a brief tutorial on how to use S3Fox.


Basic S3Fox Firefox Plug-In Tutorial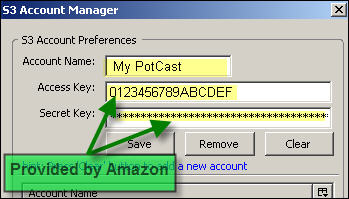 Step 1
After you have downloaded and installed the S3Fox plug-in and restarted your Firefox browser, go to "Tools" and select "S3 Organizer."

The first thing that you have to do is to configure your new S3 account in S3Fox. Click on "Manage Accounts" and enter a name for your account and the "Access Key" and "Secret Key" - both of which were provided to you by Amazon.

Step 2
If everything was entered correctly, S3Fox will connect to your S3 storage area at Amazon. You will not see anything there yet, because the storage area is empty.

Click on the "Create Directory" icon to create a new folder with a name that is unique across all S3 accounts. The name of your podcast would be a good name. I suggest avoiding spaces and special characters. You can replace spaces in your podcast's name with hyphens ("-") or underscores ("_") in order to avoid spaces.

You can then create additional subdirectories. In my example, I created a subfolder called "podcasts" under my main directory called "ccu123."

Open the newly created directory and select your podcast file(s) on your local hard disk via the file browser in the left window. Click on the "Upload" button and wait until the file upload finishes.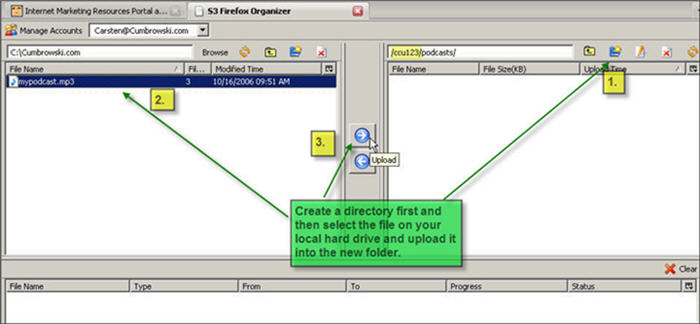 Step 3
Once the file upload is complete, and all your podcast files are on your S3 storage area and Amazon, you have to change permissions for each of the uploaded files.

The content in your storage area is, by default, not accessible by the public; only you have access to it. You want the public to be able to access the podcast files (in order to listen to them), so right click on the podcast file at the S3 storage and select "Edit ACL."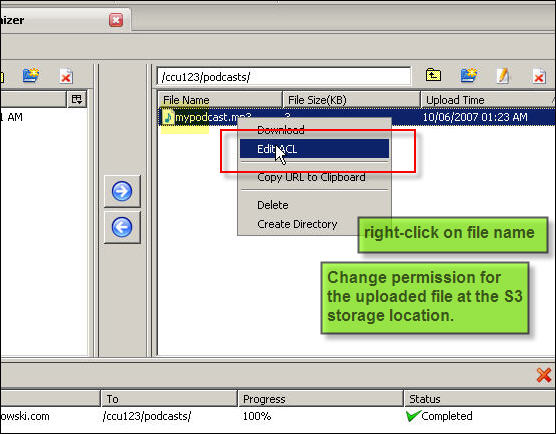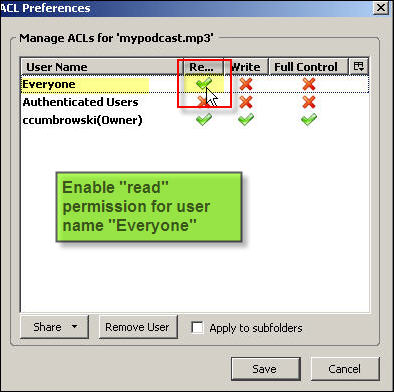 Step 4
You will see that, by default, only your username ("Owner") has permission to "Read," "Write" and exercise "Full Control" of the documents in the S3 storage. These permissions are indicated by the green "check" symbol.

Other S3 storage users ("Authenticated Users") and anonymous users ("Everyone") have no access at all (indicated by the red "X" icons).

You will want to give only "Read" permission to "Everyone" because that is enough for visitors to download the files from your S3 storage area without the need for an account or password. Don't enable "Write" or "Full Control" access to "Everyone"!

Press "Save" and you are done. The URL to the file at your S3 storage is always the following:
http://s3.amazonaws.com/<folder>/<filename> or
http://s3.amazonaws.com/<folder>/<subfolder>/<filename>

For example:
http://s3.amazonaws.com/ccu123/podcasts/mypodcast.mp3 for the podcast file in my screen shots.

Use this URL in your podcast feed and web player as the location for each episode.

Done!

For more S3 tools, check out the List of S3 Tools by Vinod Ponmanadiyil



- top -




Making your Blog RSS Feed Ready for iTunes

iTunes uses proprietary tags that need to be added to your RSS or Atom feed. Most of the time it is not necessary to deal with the technical details, because many blogging software plug-ins provide easy-to-use interfaces that generate the necessary RSS elements for you.

However, not all do this, so it does not hurt to know a bit about the technical details. I suggest that you refer to this part of the guide only if you have to do so, and skip it for now.


PodPress for WordPress
You don't have to worry about the technical details of the iTunes tags if you use PodPress for WordPress, for example (click here), because it has a nice user interface and creates all the elements of the RSS feeds for you. It even has statistic features to track downloads and a built-in web player so visitors can listen to your podcast right from your blog post.

Feedburner SmartCast
FeedBurner's SmartCast creates iTunes elements automatically. It gives you less control over some elements, e.g., keywords, but it is very easy to use. It also provides tracking and statistics about subscriptions and enclosure downloads. SmartCast is a feature that is automatically available to any FeedBurner user. Visit FeedBurner.com for details and setup instructions.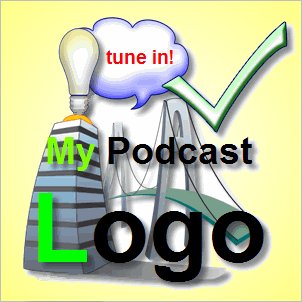 Podcast Cover Logo Format
Minimum size: 170 pixels x 170 pixels square at 72 dpi
Preferred size: 300 pixels x 300 pixels at 72 dpi
Format: JPG, PNG, uncompressed


The iTunes RSS Feed Tags
For a comprehensive guide to the iTunes tags for RSS,
check out the iTunes Tags Tutorial at FeedForAll.com.


| | |
| --- | --- |
| Tag | Description |
| <itunes:category> | See available categories below |
| <itunes:explicit> | Yes/No |
| <itunes:subtitle> | 256 characters max. |
| <itunes:summary> | 4000 characters max. |
| <itunes:author> | for whole feed use podcasters name. It is displayed right beneith the title of of the podcast. Within <item> block/episode, use it for the name of the person featured in that episode. |
| <itunes:keywords> | Keywords, for individual episodes only, space separates keywords, max. 255 characters |
| <itunes:duration> | Format: HH:MM:SS, only used for individual episodes within the <item> block |
| <itunes:owner> | |
| <itunes:name> | Name of Podcaster (required) |
| <itunes:email> | EMail address (optional) |
| <itunes:image> | Cover Logo |
| <itunes:block> | Don't list in itunes directory. Within <item> block, de-lists only the specific entry. Within <channel>, but outside <item> de-lists/blocks the whole feed/podcast. |
Standard RSS Elements Used by iTunes
| | |
| --- | --- |
| Tag | Description |
| <title> | Title of podcast or episode |
| <copyright> | Copyright for the podcast (text only) |
| <link> | Link to your site http://www.website.com |

Example RSS Feed
This example does only include the elements needed for iTunes. The other RSS elements that you have in your exisiting RSS feed are not included in this example.



<?xml version="1.0" encoding="UTF-8"?>
<rss xmlns:itunes="http://www.itunes.com/DTDs/Podcast-1.0.dtd" version="2.0">
    <channel>
    <itunes:category text="Technology">
        <itunes:category text="Information Technology"/>
    </itunes:category>
    <itunes:subtitle>a podcasting guide by Cumbrowski.com</itunes:subtitle>
    <itunes:summary>This podcasting guide was developed by Cumbrowski.com.</itunes:summary>
    <itunes:author>Cumbrowski.com</itunes:author>
    <itunes:owner>
        <itunes:name>Carsten Cumbrowski</itunes:name>
        <itunes:email>carsten@cumbrowski.com</itunes:email>
    </itunes:owner>
    <itunes:image>
        <url>http://www.cumbrowski.com/logo.gif</url>
        <title>Cumbrowski.com Logo</title>
        <link>http://www.cumbrowski.com</link>
    </itunes:image>
    <itunes:link rel="image" type="video/jpeg" href="http://www.cumbrowski.com/logo.gif">
          - Cumbrowski.com Podcasting Guide
    </itunes:link>


XML Encoding
To make sure that your content does not create any issues, be aware of the following. XML does not support most named character entities of HTML, like © and ™ with the exception of:



& 	ampersand 		& 	U+0026
&lt;  	less-than sign 		< 	U+003C
&gt; 	greater-than sign		> 	U+003E
&apos;	apostrophe 		' 	U+0027
&quot;	quotation mark 		" 	U+0022


You have to use for the other named character entities the numeric character references instead, either in decimal or hexadecimal format. Format: NN; (decimal) or NN; (hexadecimal). NN stands for the Unicode value of the character.



Name                         Named Char     Hex        Decimal
copyright                    ©         ©     ©
registered                   ®          ®     ®
trademark sign               ™        ™   ™
sound recording copyright    -              ℗   ℗

iTunes Categories and Sub Categories
Arts & Entertainment
Architecture
Books
Design
Entertainment
Games
Performing Arts
Photography
Poetry
Science Fiction
Audio Blogs
Business
Careers
Finance
Investing
Management
Marketing

Comedy
Education
K-12
Higher Education

Food

Health
Diet & Nutrition
Fitness
Relationships
Self-Help
Sexuality
International
Australian
Belgian
Brazilian
Canadian
Chinese
Dutch
French
German
Hebrew
Italian
Japanese
Norwegian
Polish
Portuguese
Spanish
Swedish

Movies & Television
Music
News

Politics
Public Radio
Religion & Spirituality
Buddhism
Christianity
Islam
Judaism
New Age
Philosophy
Spirituality

Science
Sports
Talk Radio

Technology
Computers
Developers
Gadgets
Information Technology
News
Operating Systems
Podcasting
Smart Phones
Text/Speech
Travel

- top -
Feed Submission to iTunes
Initial Submission to iTunes

Launch iTunes.
In the left navigation column, under iTunes Store, click on the Podcasts link to go to the Podcasts page.
In the left column of the Podcasts page, in the Learn More box at the bottom, click on the Submit a Podcast link.
Follow the instructions on the Submit a Podcast page.
Updates with New Content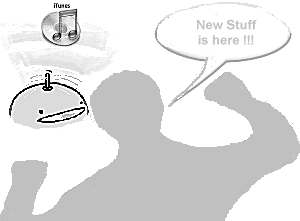 iTunes checks the feed automatically once a day (once accepted).

If you want to notify iTunes about new content that it will be picked up faster and available to your subscribers earlier, you have two options.

Option 1) XML Post
This method requires some programming skills, but is the most clean one. The XML POST should be addressed to
https://phobos.apple.com/WebObjects/MZFinance.woa/wa/pingPodcast and formatted as follows:



<?xml version="1.0"?>
<methodCall>
<methodName>weblogUpdates.ping</methodName>
<params>
   <param><value>PODCAST_NAME</value></param>
   <param><value>http://FEEDURL/</value></param>
</params>
</methodCall>

PODCAST_NAME is the title of the podcast, exactly as it appears in the <title> tag, and FEEDURL is your podcast feed URL.

Option 2) Ping
You can also ping the iTunes server to update your podcast information. This is much easier, if you do it manually, because no programming is required. The only thing you have to do is entering the following URL into the browser address box:

https://phobos.apple.com/WebObjects/MZFinance.woa/wa/pingPodcast?id=FEEDID
where FEEDID is your iTunes podcast numeric ID. You can also use:

https://phobos.apple.com/WebObjects/MZFinance.woa/wa/pingPodcast?feedURL=http://FEEDURL
where FEEDURL is the URL for your feed.

Regardless of the ping method you use, iTunes will return an HTTP 200 code (= OK HTTP Status, versus a 404, or other error message).




- top -




Get your Podcasts ZUNE Ready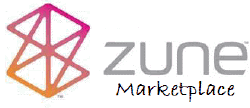 There is a contender to the portable audio and video player incl. subscription service throne, which was owned by Apple iPod and iTunes over the past few years without being seriously challenged. That contender is called Microsoft Zune, the portable music and video player with wireless features, 80 GB of memory and its own full grown market place and podcasting directory just like iTunes.

With 1.2 million Zunes sold already is this statement proven to be more than a temporary hype. While you need to have the Zune software, which is only available for Windows PCs at the moment (no MAC, sorry), in order to access the Zune marketplace, so is it not necessary to own a Zune to access the directory and subscribe to podcasts.

Step 1) You also need the software, in addition to a Zune marketplace user account (free), in order to be able to submit your own feed to the Zune marketplace. You can download the software at the Zune website at www.Zune.net (download link is on the lower left side). The setup file is about 31-35 MB in size, depending on which version you download (32 bit or 64 bit).

Step 2) Before we continue, check, if your podcast is already included in the Zune directory. That is not impossible, because anybody can submit podcast feeds. If one of your listeners owns a Zune, chances are good that he already suggested your podcast to be added that he can subscribe to it for his own use. Just use the search box in the top right corner to find your podcast.

Step 2 b) If you cannot find your podcast in the directory, use the "suggest a podcast" feature from within the Zune software. You can find the link further down on the page usually on the right side. You have to browse the podcast marketplace of course. To do so Click on "Marketplace" and then "Podcasts" at the top left within the Zune software.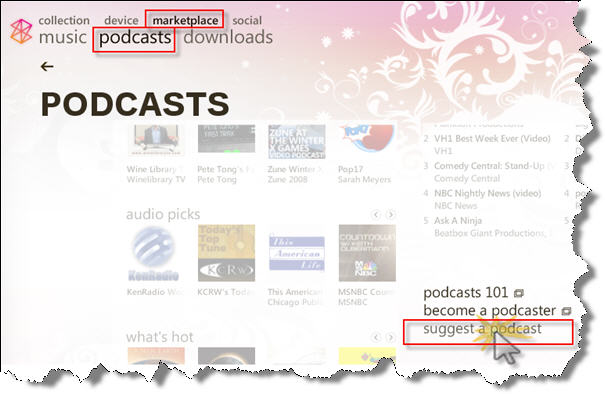 Step 3) If you found your podcast already or just did submit it yourself, you want to find out what the direct URL to your podcast is in the Zune directory. This was not made obvious by the folks of Microsoft, but you can find it out anyway by performing one additional step.

Step 3 a) Open up the page with your podcast to access the detail page and select "tell a friend" and then use the email form to sell yourself about the podcast (send a message to your own email address). Once you did that, open your email inbox and look for the email from the Zune marketplace.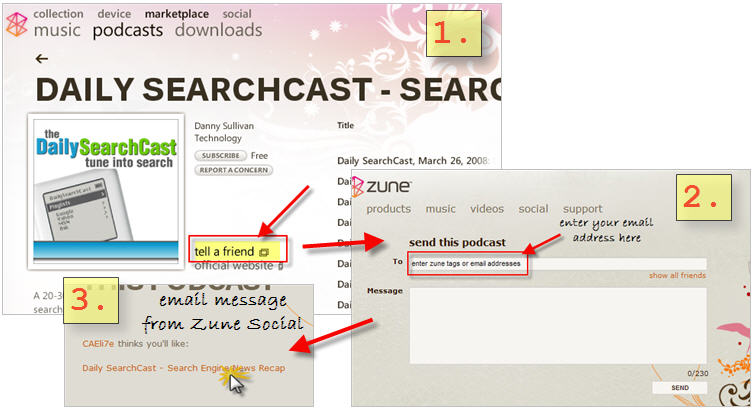 Open the email and follow the provided link, which will take you right to the detail page of your podcast via your web browser instead of the Zune software. Copy the URL that you see in the address bar. That is the URL which you want to put on your blog or website for people to use to subscribe to your podcasts via Zune.





Step 3 b) Alternative can you also create a link that is similar to the iTunes specific sign-up link (itms://phobos.apple.com...), which will cause an error page if no Zune software is installed, but launch the Zune software automatically, if it is configured on the users computer. The URL looks like this:
zune://subscribe/?FeedTitle=FeedURL

FeedURL has to be replaced with your podcasts XML feed full URL (including the "http://") and FeedTitle with the title of your podcast. If your title contains spaces (multiple words), make sure that you replace each space character with the URL encoded equivalent characters "%20", for example "My Podcast" would become "My%20Podcast". If you do not replace the space characters, then the link might not work, because the Zune software might think that the URL already ended at the space character, thus missing the actual feed URL.

Example, podcast name is "Carsten's Podcast" and the feed URL is "http://www.cumbrowski.com/podcast/feed.xml":

zune://subscribe/?Carsten's%20Podcast=http://www.cumbrowski.com/podcast/feed.xml


Step 4) If you need a Zune badge for your blog or website, pick one of the following for example. Right click on the image and select "Save as", download it to your machine and then upload it to your website. There is also a corresponding iTune signup badge, in case you need that one too.





Perfect, your podcast is now Zune ready!
- top -
Integrate Your Podcast into Your Blog

If you don't have a blog yet, then you should definitely launch one to promote your podcast. You have two basic choices when it comes to the type of blogging solution: you can choose a hosted solution or you can set up blogging software on your own servers.



Living Dot provides pre-installation and configuration of WordPress or Movable Type blogging software (no extra fees), domain (DNS) control for multiple domains, PHP, multiple MySQL databases, email accounts, tech support and premium bandwidth. Living Dot is the blog hosting expert, specializing in this kind of hosting.



Each of the options has its own benefits and shortcomings, but if you are serious about your podcast project, I suggest going with the setup of blogging software on your own servers. I am happy to provide further resources and information on hosted blogging solutions and blogging software.




- top -




Alternative Web Players

Alternative players typically provide more features and customization options than mainstream web players that are build into plugins like PodPress player, which, by the way, can be used independently on other blog platforms as well. Since some plug-ins for blogging platforms do not have a web player built in, you may need to look for a player anyway.


| | |
| --- | --- |
| | WimpyPlayer (commercial player) supports skins and plug-ins, manages play lists and supports encryption of actual file locations (e.g., your Amazon S3 URL). Cost for Wimpy Player depends on which tools you buy - from $20 to $40 for a basic package or $90 to get everything they offer. |
- top -
Podcast Directories

There are a number of podcast directories available, with the iTunes directory being the single most important one. This guide focuses on iTunes; however, you should not ignore the other, smaller directories. It is very easy to get your podcast listed in those directories and the extra exposure and traffic is worth the time spent on submission.

If you have the time to submit your podcast to 50+ directories, go ahead and do it manually. If, however, you want to speed up the submission process, use a tool like the one I mention below. You'll likely find that the tool pays for itself in terms of time saved.

Here are just a few directories and links to their submission pages. Below, I provide links to resources that list additional directories.


More Podcast Directories


Digg Podcasts
Digg has a podcast section where you can add your podcast. People who like it can vote for it, just as they do for regular news stories and videos. To get your podcast added to the Digg podcast listings, go to http://www.digg.com/podcasts.

Once accepted (you need to check from time to time), your podcast will show up in the listings with its own URL like: http://www.digg.com/podcasts/Podcast_Title. You can then integrate a Digg button on your own website so that your website visitors can cast votes for your podcast and increase its popularity and ranking in Digg Podcasts.

Podcast Directories Submission Tool

RSS Submit by K-Soft + Podcast Plug-In (sold separately) is great for promoting your blog, because it automatically submits your RSS feed(s) to more than 80 blog and RSS directories.

The optional podcast plug-in, which is sold separately, allows you to submit your podcast RSS feed to another 50+ podcast directories and search engines. Both together cost less than $100 (personal edition) or less than $150 for the SEO edition. The professional edition is priced between the other two.



- top -
Podvertising Networks
Podvertising Networks are special podcast directories that not just list and/or host podcast audio and video files, but also arrange advertising deals where the content creator or author and in some cases even the person who shares the content, is being paid a share of that advertising revenue. It is one method of monetizing your podcast content. It is good, because you don't have to worry about finding advertisers, because the network will make sure that the advertisers will find you.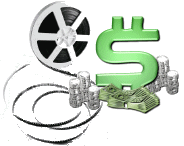 Many of those Podvertising Networks offer also free hosting for your video or audio content, which I was talking about a bit earlier in this guide.

This makes it often fast, easy and cheap to get a podcast up on the net, a feed live to subscribe to and in many cases even a mini website. However, there is the obvious drawback of sharing advertising revenue (often 50/50) with the network. Also make sure to check the service agreement with the network.

Look for the specifics regarding the content ownership and usage rights as well for any exclusivity clauses that could prevent you from signing up with other networks, while you are having your partnership with the other network.
While a site, feed and content are up and live quickly, so is moving all this to someplace else at sometime in the future (for any reason), often hard to impossible. The convenient today could come back to haunt you in the future. I suggest spending some time to think about the different options and then consider and decide on which route to go.
List of some Podvertising Networks
| | |
| --- | --- |
| Logo | Description |
| | Blip.tv lets you upload your video content to their site. It will be hosted for you by Blip free of charge. Blip.tv will negotiate sponsorships and advertising for you and split generated revenue with you 50/50. |
| | Bluebrry.com is more like a community where content producer can connect with peers and with advertisers. Increasing Ad inventory by partnering with other podcasters in the same niche makes it easier to find and negotiate good advertising deals. Bluebrry pays 70% of the generated revenue out to the podcaster. They also pay a 10% "finder's fee" for any podcaster who you refer to the network. |
| | Podango services go beyond hosting the content and providing advertising revenue. People can create their own shows or channels, called station, where they can publish their own content or content generated by a third party. Show creators earn money in either case, only the percentage varies. It is in fact possible to run a station without producing your own content at all. |
| | Podshow was founded in 2004 by the famous podcasting pioneer Adam Curry. Details can be negotiated with the network. It is not open for everybody to create a new show on the network. This lets me assume that it is probably only a possible option for somebody who already has a podcast running and a certain size in audience. |
| | Podtrac is a network that brings podcast content producers and advertisers together. Podcast producers are encouraged to ask their audience to fill out a survey that will then be used by Podtrac for targeting and finding the right advertisers. The payout is not so good. They only pay a 35% cut of the advertising revenue generated to the creator and owner of the podcast. |
| | Revver is a Podvertising network for video bloggers. Revver stores the video content and splits advertising revenue with the creator 50/50. Also people who share content can get a piece of the pie, 20% of the earnings that were generated from the shared link. In this case would the split of revenues between Revver and the Author happen after the commission was paid to the person who shared the content. |
| | Talkshoe offers nice features, such as an available live chat and also a dial-in phone line where listeners can call and be connected live to a running show or leave a message. You can not only earn revenue for hosting your own show at Talkshoe, but also a commission for ad revenue generated by host who you referred to the network. |
| | YouTube Partner Program enables revenue sharing for original video content producers who own full copyrights for their uploaded content, upload regulary and have already a couple thousand viewers and are living in the United States or UK. |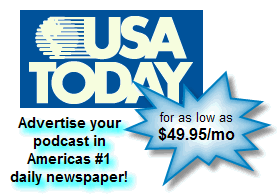 The Blogger & Podcaster Magazine formed a partnership with the largest United States newspaper, USA Today, which allows podcasters like you, to promote your weblog or podcast for a ridicules low price, either on the USA Today website and/or the USA Today print edition.

It is called "USA Today's Blogger and Podcaster Guide".

A listing in the online edition of the guide at USAToday.com (which has over 10 million daily visitors) costs $49.95 per month and a listing in the print edition (with over 5 million readers) costs only $195 per week (this is far below the typical advertising rate of the newspaper).

You can cancel the advertising at any time. To get your podcast or blog listed, visit http://www.bloggerandpodcaster.com/usatoday.
- top -
Podcasting Magazines and Shows
| | |
| --- | --- |
| | Blogger and Podcaster Magazine is the standard for bloggers and podcasters. Get a free subscription! The magazine is available in print and digital editions. |
| | BlogWorld & New Media Expo is the conference and expo for bloggers as well as podcasters. |
| | New Media Expo is a conference about the new media on the Internet, and podcasting is one of those new medias. This is a must-attend show for every serious podcaster. |
Association for Podcasters and Bloggers
| | |
| --- | --- |
| | IBNMA.org, the International Blogging & New Media Association for bloggers, podcasters and others who are active in the New Media space. And you thought that there isn't such a thing as an association for podcasters, eh?! :) |
- top -
Books to Podcasting

Because this medium is new, there are not yet hundreds of books available to the subject, but there are a few worth reading. The best and most important of those books are listed below. Most of them are aimed at beginners and people who are considering starting their own podcast in the near future.


Hands-On Guide to Video Blogging and Podcasting: Emerging Media Tools for Business Communication
by Lionel Felix and Damien Stolarz





What No One Ever Tells You About
Blogging and Podcasting
Real-Life Advice from 101 People
Who Successfully Leverage the Power
of the Blogosphere
by Ted Demopoulos


Podcasting: Do It Yourself Guide
by Todd Cochrane





Tricks of the Podcasting Masters
by Rob Walch and Mur Lafferty





Secrets of Podcasting
Audio Blogging for the Masses
by Bart G. Farkas





Podcasting Hacks - Tips and Tools for Blogging Out Loud (Hacks)
by Jack Herrington





Podcast Solutions - The
Complete Guide to Podcasting
by Michael Geoghegan, Dan Klass





ProBlogger - Secrets for Blogging Your Way to a Six-Figure Income
by Darren Rowse and Chris Garrett





Promoting Your Podcast - The
Ultimate Guide to Building
an Audience of Raving Fans
by Jason Van Orden





Mommy, Where Do Customers Come From?
How to Market to a New World
of Connected Customers
by Larry Bailin




- top -