Table of Contents
Return to Search Engine Marketing/PPC Resources Home - List of Pay-Per-Click Search Engines
The Books, eBooks and Magazines listed on this page are for Search Engine/PPC Marketers, Webmasters, Affiliates, Marketing Managers or Executives. I also have a list of Books to Search Engine Optimization (SEO).
I own most of the items listed myself which is one reason why I listed them. The ones I do not personally own myself were added to this page because of good reviews and recommendations by other well respected people in the Industry.
I did not a list anything I can not recommend to you with a clear conscience.
If you believe that I missed anything important that should be listed on this page, contact me. I will have a look at it and add it to this page, if I agree with you that it is important enough to recommend it to others.
Whether you like Books or not, I encourage you to check out my collection of Internet Marketing Podcasts, Radio and Videos about Search Engine Marketing (SEM/PPC) and Optimization (SEO), Online Marketing, Email Marketing, Web Analytics, Copywriting, Affiliate Marketing, Contextual Advertising and Competitive Intelligence .
Free Search Engine Marketing (SEM/PPC) Guides and eBooks
Return to
Search Engine Marketing/PPC Resources
Home - List of
Pay-Per-Click Search Engines
Yahoo! Advertiser Workbook (PDF)
free downloadable ebook by Yahoo! Get the most out of your YSM campaign
AdWords Keyword Research Genie
a free eBook by Brad Geddes
Keyword Research Guide
by WordTracker Keywords. Free PDF Download.
Linking Matters Report
by Ken McGaffin
The PageRank Citation Ranking
- Bringing order to the web by Lawrence Page, Sergey Brin, Rajeev Motwani and Terry Winograd
- top -
Internet Marketing Magazines
Return to
Search Engine Marketing/PPC Resources
Home - List of
Pay-Per-Click Search Engines
Revenue Magazine
- Performance Marketing Standard Magazine
Search Engine Standard Magazine
- First Print Magazine about Search Engine Marketing.
Free Magazines and Publications
Website Services Magazine
Free Internet Marketing and Webmaster Print Magazine
Affiliate Classroom Magazine
- monthly and free eMagazine for Affiliate Marketing Newbies and Veterans.
TradePub.com
- FREE Trade Magazine Subscriptions & Technical Documents.
- top -
Search Engine Marketing (SEM/PPC) Books and eBooks
Return to
Search Engine Marketing/PPC Resources
Home - List of
Pay-Per-Click Search Engines


Google Adwords Handbook
by Andrew Goodman

eBook





Winning Results with Google AdWords
by Andrew Goodman






Search Marketing Standard
1st Search Marketing Related
Print Magazine (Quarterly)






Pay-per-click Search Engine Marketing Handbook
by Boris Mordkovich and Eugene Mordkovich





Search Engine Advertising
Buying Your Way to the Top to Increase Sales
by Catherine Seda





Google Advertising Tools
Cashing in with AdSense, AdWords, and the Google APIs
by Harold Davis



Yahoo! (unofficial)
Search Marketing
Handbook
by Mona Elesseily
e-Book





Successful Advertising with Google AdWords
by Axandra

e-Book






Search Engine Optimization
Your visual blueprintfor effective Internet marketing by Kristopher B. Jones, CEO of PepperJam



Recommended




The Complete Guide to Google Advertising
Including Tips, Tricks, & Strategies to Create a Winning Advertising Plan by Bruce C. Brown






Paid Search Marketing (PPC) - Best Practice Guide
by e-Consultancy
e-Book




Report: Over 3,100 Marketers and SEM Agency Execs Say What's Working in SEM. Read it in the All New 2008 Search Marketing Benchmark Guide by MarketingSherpa!


MarketingSherpa's Search Marketing Benchmark Guide 2008
Practical, fact-based search marketing data on what works and what doesn't - Essential for search marketing (PPC & SEO) budget planning. Learn about:

What you can expect to spend on Search Marketing in 2008.
How consumers really look at Web-based content and advertsing. Does URL length affect viewing and content?
How search ROI stacks up against other tactics.
247 real life marketers explain the challenges they faced in bring Search engine marketing in-house.
A new way to evaluate clicks and click fraud.
Plus, you'll also see a new eyetracking heatmap revealing how consumers interact with Google search pages these days. MarketingSherpa is well respected for their Benchmark Guides, Buyers Guides and How-to Handbooks.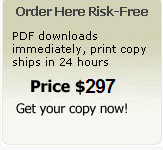 What do you get with the complete Search Marketing Benchmark Guide?

184 charts & 10 eyetracking maps
2,475 search marketers surveyed
711 search marketing agency execs and staff surveyed
Stats on costs per click, conversion rates, SEO vs. PPC, and more
Growth rates and ROI of search marketing vs. other marketing tactics
and 3 Special Reports ...

Challenges to In-House SEM
Eyetracking Study of Search Ad Position and Relevance
Under the Hood of Ranking Toolbars
Have a look for yourself at this free

excerpt from this new benchmark guide and learn first hand how good the quality of this report is.
Those Guides are for professionals and not cheap. To avoid that customers have to buy a pig in a poke, MarketingSherpa made a lot of their content available for free to the general public, at a special section on their Website created for visitors to roam freely in and absorbe knowledge.
- top -
Related Books, Podcasts, eBooks and Magazines
Return to
Search Engine Marketing/PPC Resources
Home - List of
Pay-Per-Click Search Engines
Search Engine Optimization (SEO) Books
, eBooks and Magazines
Internet Marketing
Books, eBooks and Magazines
Copywriting Books
, How-To Kits and Guides
Affiliate Marketing and Contextual Advertising
Books, eBooks and Magazines
Web Analytics, Traffic Tracking, Web Metrics
Books
Press Releases and Public Relations
Books and Magazines
Email Marketing
Books and Guides
Competitive Intelligence
Books
Benchmark Guides for the Industry - Buyers Guides to do thorough diligence
Internet Marketing Podcasts
and
Videos
Webmasterradio.fm
- Free Internet Radio for Webmasters and Internet Marketers.
- top -