Table of Contents
Video Podcats to Search Engine Marketing
Video Podcats to Search Engine Marketing
Return to
Search Engine Optimization Resources
Home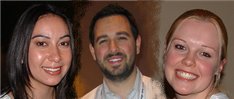 WebProNews.com Video Blog (VLog) - Various videos from tradeshows like PubCon and SES, video interviews. Watch online or subscribe to the RSS feed.

Whiteboard Friday is the video series by SEOMoz.org, mostly presented by Rand Fishkin, unless he is out of town, about various SEO and internet marketing issues. You can access all episode of the series via the YouTube account of Scott Willoughby from SEOMoz.org.

Weekly Search Buzz Video Recap the weekly search engine marketing news video podcast with and by Barry Schwartz of Search Engine Roundtable and Search Engine Land.
- top -
Google Tutorials and Learning Videos
Return to
Search Engine Optimization Resources
Home

- top -

Matt Cutts (Google Engeneer) Videos
Return to
Search Engine Optimization Resources
Home

Here is a collection of 15 videos with Matt Cutt's, who is the head of the Google Anti-Spam team. Matt answers in more or less detail, how Google handels certain things and other questions that were raised by concerned webmasters and search marketers. He provides useful tips to what to do and what not to do and also debunks some of the myths that were floating around in SEO forums and blogs.
See Educational Webcasts and other interactive learning content for internet marketer at the SEO/SEM and internet marketing training and certification resources section of my website.
- top -
Videos Produced by SEO/SEM Companies and Professionals
Return to
Search Engine Optimization Resources
Home
Videos by Barry Schwarz from SERoundTable.com

YouTube Channel RustyBrick - SearchBuzz Roundup, Weekly Video Recaps of the Search Engine Roundtable and other videos realted to search engine optimization and marketing with host Barry Schwarz, editor of SearchEngineLand.com, SERoundTable.com, author of CartoonBarry.com and owner of the Search Engine Optimization (SEO) firm Rusty Brick.

Collection of videos on Barry's YouTube Channel. Subscribe to Barry's videos via RSS, here is the URL to his RSS Feed.
Video(s) by Aaron Wall author of SEO Book

Videos by Dan Thies from SEOResearchLabs, author of "The Search Engine Marketing Kit"

Video(s) by Jeremy Schoemaker aka "Shoemoney"

See also Jeremy's
YouTube Page
, where ShoeMoney posts occasional videos related to search engine marketing and affiliate marketing.
Video(s) by Kris Jones, CEO and Founder of PepperJam

Search Arbitrage - IMO the best explaination of what search engine arbitrage is and how it works. Reflections by Kris Jones of a session about search arbitrage at Search-Engine Strategies NY in 2007.

PepperJam also has a
YouTube Page
where they provide PepperJam and internet marketing related videos.
Affiliate Summit SEO Session Video

Straight Talk on Search Engine Optimization (Google Video) - Session at Affiliate Summit East 2006 - Wil Reynolds of SEER Interactive - heavy focused on Q&A.

Affiliate Summit 2007 East list with links to all session video recordings and powerpoints (where available). Most of the sessions are of course not specifically about search, but affiliate marketing, however, search engine marketing and optimizartion plays an important role in affiliate marketing as well, for the advertisers and the publishers / affiliates, so it is certainly worthwhile your time to have a look.

Wil also has a YouTube channel with his name at
YouTube.com/WilReynolds
and several educational videos to the subject of Search Engine Optimization.
- top -
Additional Video and Audio Content
Return to
Affiliate Marketing Resources
Home
- top -
See the

Advertiser Kit to learn more about sponsorship opportunities at Cumbrowski.com. Press? Download my

Media Kit.