Personal Productivity and Project Management
To-Do List
-
Toodledo.com Online To-Do List
- Group Tasks by custom Folders, add priorities, add notes and specify due dates, repeating tasks. Tools: auto-sheduler, import/export option, Google Homepage Widget, Developer API. Free Services. Some Features are for Pro Users. Pro Account cost less than $10 per YEAR.
Finding Stuff
-
Desktop Search Software Comparison
- Features and Benefits of Various Desktop Search Programs. Desktop Search Software can help you to solve the problem of finding old emails and files on your computer. Great for everybody who has to deal with tons of incoming emails and/or floods of files on the computer.
Tool
-
GTD - Getting things done® MS Outlook Add-On
- Price: about 70 bucks,
free Trial
(executable) download. Developed by Netcentrics based on the personal productivity enhancement system or methology by David Allen callen "Getting Things Done" or "GTD".
The Books from David Allen are great by itself, but I had a problem that it was so physical office oriented. I do stuff virtal for the most part and tools that allow to adapt the GTD methods did not exist until Netcentrics developed this Add-On. Shortcut for the people who did not read the books,
a 101 in

pdf format called:
"Getting Things Done 101: Seven Clicks to a Clean Inbox for a summary of the product"
.
Intrigued? Good, now: Getting Things Done Outlook Add-In®, Get the
Tour
. Delegate, Defer, Action, Someday, Snooze, File and your Inbox is taken care of. The Add-in uses various build in features of MS Outlook and integrates them nicely to adjust them for the need of adapting the GTD principles; Email, Tasks, Calendar, Notes, Forms, Journal etc. For a crash course to how to use the Add-On, check the Video Tutorial -
Dowload (ZIP file)
.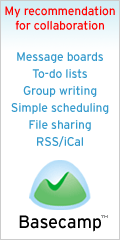 Project Management
Basecamp HQ
- project management and collaboration online service. Provides user and permission management on project level, to-do lists, message boards, notes support for real-time online chat in private chat rooms (Campfire.com). RSS Feeds (reader must support user/password authentication) for pretty much everything, comes in handy especially for the activity log.
Basecamp has a free version, but even the "PRO" version is cheap. I pay $12.00 per month for the personal plan. Your Basecamp portal will be your own site (subdomain of several domains owned by Basecamp (mine is cumbrowski.updatelog.com).
Project Management
If you want something really slick, check out
Hyperoffice.com
. It looks and feels like MS Office (Outlook etc.). It has tons of options, even the ability to map a folder of your Hyperoffice site (username.hyperoffice.com) directly to your Windows Explorer as a new drive, yes, over the internet.
The problem is the cost. $45 per month for a single user, $10 per additional user. It starts getting cheaper per User if you need 25 and more user accounts. Still, pretty slick. I like it and would praise it more, but my trial ran out (I might reconcider if I get a free 5 users account, for research only, of course hehe).
- top -
Additional Useful Resources
- top -