Introduction
A great source of information and other resources are online forums. There are forums about everything, just as there are also User groups (the predecessor of modern online forums) about every subject on planet earth.
Since there are so many forums out there, is it sometimes hard to find the ones that are most appropriate for your needs. Here is a list of forums for MS SQL Server database administrators (DBAs) and database developers. Compiled for you that you do not have to.
See also
Affiliate/Inet Mkt. Forums
SEO Forums
Domainers Forums
Web Designer Forums
Web Designer Forums

SQL Server Developer Forums
Return to
Resources for Microsoft SQL Server Developers and DBAs
| | | |
| --- | --- | --- |
| Logo | Feed | Description |
| | | MSDN Forums for MS SQL Server Developers, DBAs and Beta-Testers. |
| | | SQL Server Central Forums a very active developer community to Microsoft SQL Server 2000 and 2005 (free Membership required to read and post). |
| | | SQL Team Forums of SQL Server Professionals and Enthusiasts |
| | | SQL Junkies Forums for the geeks obsessed with data storage via MS SQL Server |
| | | SQL Server Performance Forums for high quality discussions about SQL Server usage and optimization |
| | | Wrox Programmer to Programmer™ Forums Category SQL Server - Topics SQL Server 2000 and 2005, Reporting Services, DTS and ASP. (Wrox P2P Forums Index) |
| | | SQL Server Magazine Forums by Penton Media for readers of SQLMag.com and WindowsITpro.com |
| | | TheScripts.com SQL Server Forums at the IT Developer Network |
| | | SQLServer.Org.Au, the Australlian SQL Server User Group provides a number of SQL Server related resources, such as blogs, forums, articles, jobs openings, news and events. |
| | | Tek-Tips.com Forums to Microsoft SQL Server programming, T-SQL, Stored Procedures, Fulltext Search, SSIS etc. |
| | | Drop Table - Support Forum for database administrators and web based access to important newsgroups related to databases |
- top -
Expert Exchange Community
Return to
Resources for Microsoft SQL Server Developers and DBAs
Logo
Description
MS SQL Server Zone at Expert-Exchange.com. Entrance page to all SQL Server related Questions and Answers.

MS SQL Server 2005 Zone at Expert-Exchange.com. Questions and Answers to SQL 2005

DTS Zone at Expert-Exchange.com, Q&A to SQL Data Transformation Services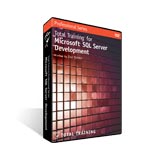 Total Training for SQL Server 2005 Development


Level: Beginner to Advanced, Format: DVD-ROM for Windows PC & Online


Follow along as Paul Nielson (author SQL Server Bible, Speaker at PASS etc.) presents 8 hours of Microsoft SQL Server 2005 development instruction. This training is the fastest way to get up to speed quickly with T-SQL development, SQL Server basics, best practices, dozens of targeted examples, and sample code. If you design or develop SQL Server 2005 databases, this video is for you.


Try before you buy with the Total Training FREE 7-day guest pass!
- top -
See the

Advertiser Kit to learn more about sponsorship opportunities at Cumbrowski.com. Press? Download my

Media Kit.